Gabrielle Petito and Bryan Laundrie left for a van trip across the United States, but only the young man returned. The mysterious disappearance of the young woman moves the country which seeks to unravel the mystery.
"Where is Gabby?" On Facebook, Twitter and Instagram, Internet users are mobilizing to solve the mystery surrounding the disappearance of Gabrielle Petito. The 22-year-old American blogger vanished in the middle of her vacation with her fiancé, Brian Laundrie.
The couple went on an adventure on July 2, starting a road trip by van across the United States. Originally scheduled to last four months, the trip came to an early end on September 1 with Brian returning to his home in Florida where he lives with his parents and girlfriend.
Problem: "Two people left on a trip, only one came back," North Port Police Chief Todd Garrison wrote on Twitter, calling on people to help authorities find Gabby.
Theories of all kinds
A message taken literally by Internet users, many of whom follow the life of the young woman on her social networks. On Instagram, alert messages are raining under the hashtag #WhereIsGabby while on Facebook, private groups abound and all establish theories.
Thus, some imagine that the blogger, abandoned in the middle of the desert by her boyfriend, would have committed suicide. Others directly accuse Brian Laundrie of having murdered her.
"I think he manipulated her […] He seems to be obsessive […] He is 100% guilty, "said a user in the Facebook group What happened to Gabby Petito.
Designated by many as the ideal culprit, the young man is however not questioned by the investigators, who do not consider this case criminal in nature. "For the moment, it is an investigation in disappearance", underlines Todd Garrison questioned by the American media. Brian Laundrie has been called a "person of interest", however, as he was the last to see Gabby alive.
Couple quarrel
Another element intrigues Internet users. This is an altercation that occurred on August 12 between the two lovers. That day, Moab, Utah, police were called into a public dispute. When they arrive, they discover Gabrielle Petito in tears and Brian Laundry marked by scratches on his face and on his hand.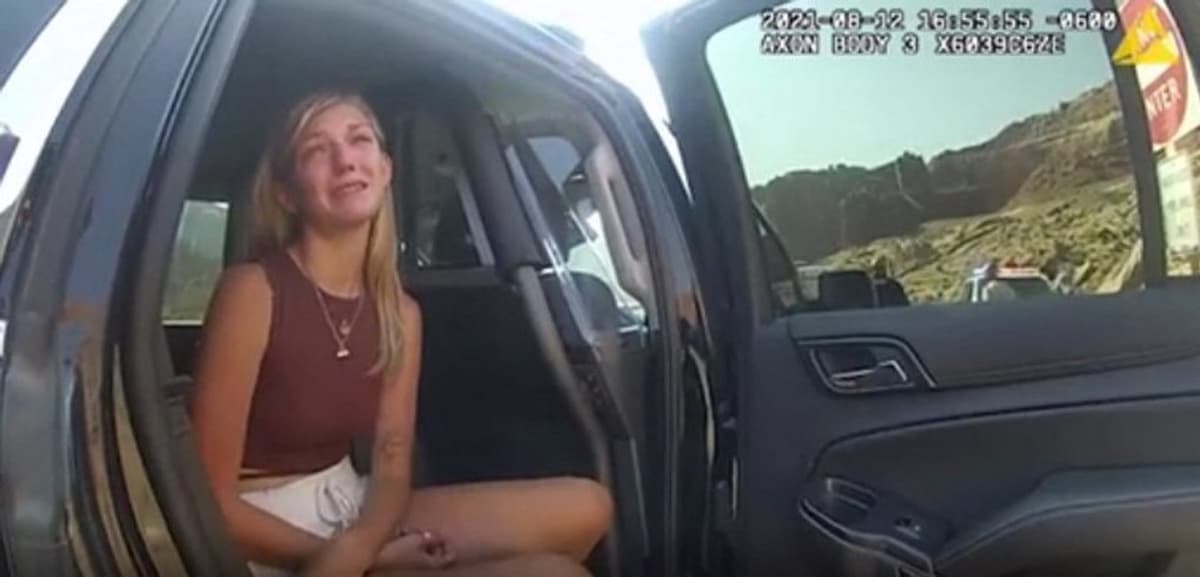 "Some days I have severe obsessive-compulsive disorder and I would tell her I was sorry for being so mean […] And I'm so stressed, I have a lot of work […] I'm trying to start a blog and it [Brian] don't really believe i can make it […] We argued all morning, "she stammers in front of the officer who records the scene on his on-board camera.
After more than an hour spent with the couple, the police concluded that they were in a panic attack and recommended that they spend a night apart, the time for the tensions to subside. "After evaluating the situation, I do not believe that it could worsen and give rise to domestic violence," wrote the officer in his report, according to CNN.
"The truth always comes out in the end"
After this clash, the couple seems to have continued their journey to Wyoming. On August 22, Gabrielle calls her parents:
"From everything we saw in the photos, and from the conversations we had with her, they seemed to be having the best vacation of their life," said the missing father-in-law. New York Times.
The last contact with the young woman is by text on August 30 but, in hindsight, her mother and stepfather believe that the messages may not have been written by her.
Since then, Gabby Petito has not given any sign of life and her boyfriend refuses any dialogue, whether with the Petito family or with the police. Gabrielle's parents, however, implore her to tell them "where Gabby is. At least tell us if we're looking for her in the right place. We're not sleeping, we're not eating, our life is falling apart."
"I believe Brian has the information we need. His relatives may also know. We ask them to speak," urges Todd Garrison.
Faced with the silence of the Laundrie family, several people gathered Thursday in front of their house, holding up signs urging them to "speak", "the truth always ends up coming out". "Where's Gabby?"
Amber Lepoivre BFMTV reporter